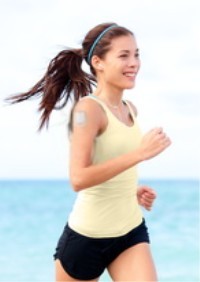 Insulin pump therapy                           
An insulin pump is only releasing short acting insulin over a small catheter in the skin: continuously as basal rate and as a bolus before meals.

The insulin pump is either adhered with a patch onto the skin and changed after 3 days ("patch pump"), or connected by a tube to the catheter, from which it can be disconnected and stored as required: for a maximum of two hours - but even longer if when the supply of insulin is regulated by the patient with a pen or syringe during this time.

The insulin pump is waterproof, it can- but dont has to- be stored while showering, swimming or sport activities.
The insulin delivery can be controlled conveniently and discreetly via a remote control, which contains a blood glucose meter and communicates with the insulin pump. The remote control calculates a proposal for the dose of an individual insulin bolus.
The continuous insulin delivery leads to more stable blood sugar levels.
Diabetespraxis Alexanderplatz, Alexanderstraße 1, 10178 Berlin, Tel +493028385319, Fax +493028385339, diabetespraxis@diabetologe-berlin.de